The Best Check Cashing Software Gives you the Best Data Network
We truly care about your check cashing business as much as you do, which is why we offer you the largest data network to help you detect fraud and grow your business. At the core of our check cashing software is the largest data base on company profiles, customer identification, and banking data. In addition, QuickCheck constantly updates the database to ensure you have the most powerful network and check verification system. You can count on us.
0
Checks Cashed & Counting
0
Customers Served & Counting
Endless Possibilities: The Only Check Cashing Software You Need
QuickChecks's extensive database and verification tools allows you to mitigate risks for payroll checks, tax refunds, and treasury checks. Furthermore, its unique risk tolerance settings lets you create a software that suits your needs. These simple yet powerful options allow you to change your policies as your business grows and evolves. You will never need to restart your check cashing business again.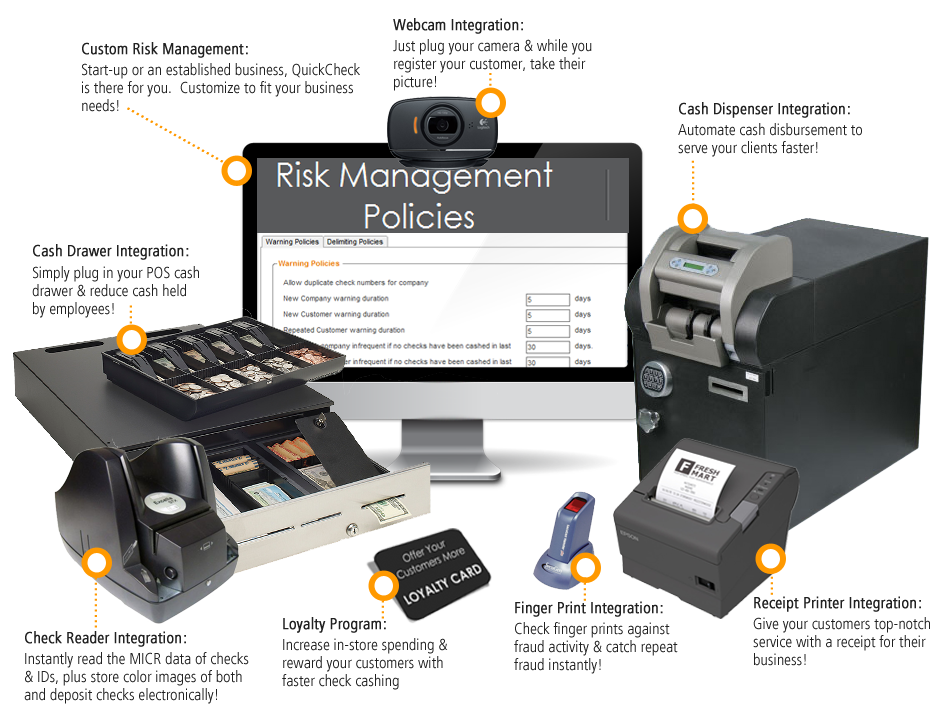 Incredible Features That Go Beyond Check Cashing Software
QuickCheck is loaded with useful features, each one designed to help your business. We listen to our users and integrate their feature requests on a regular basis. QuickCheck is not only built by us, but also by our users.
Those Are Just A Few Main Features, There Are Plenty More
Easy Installation & Setup

Fully Customizable Policies

Supports Payroll & Treasury Checks

Verify ID and Phone Number

Optional Finger Print Identification

Cash Dispenser Integration

Quick AML Compliance Binder

Verify Bank Account Status
Detailed Reports of all Transactions

Complete Overview of Fees

Quickly Create SAR and CTR Logs

Employee and Shift Level Reports

Reduce Dependency On Employees

Maintain Complete Check Images

Custom Alerts and Detection Tools

Automatic OFAC/SDN Verification
Avoid exceeding CTR & SAR Limits

Easy Online Data Backup

Auto Encrypt Customer Data

Electronically Deposit Checks

Manage Other Money Services

Multiple Check Cashing Stations

Get Shift Level Cash Reconciliation

Remotely Monitor Cash Balance
Best In Class Support: You Need It, We Provide It.
Out #1 priority is you, the user. We believe in our product and hold ourselves to the highest standards. We truly care about your check cashing business as much as you do, which is why we offer the best support around at our dedicated support center. In addition, QuickCheck constantly offers free updates with new features requested by our users. Rest assure, we are here for you.
Ridiculously Easy Setup For Check Cashing System
Many check cashing program providers claim to have a quick setup, but leave you dealing with several complications after the sale. Who wants to do that? We sure don't. QuickCheck truly offers a quick, easy setup. Install the software, plug in your hardware, configure your settings, and start cashing checks. It doesn't get easier than that. Our setup process is a beautiful thing.
User Reviews: We Love our Users, And They Love Us.
We are fully dedicated to our user base. When you have QuickCheck Check Cashing System, there is no need to worry about customer support. With over 5,000 users and counting, you cannot go wrong with QuickCheck. Check out what our users are saying about QuickCheck!
"WOW – This is the Best Decision I Have Made."
WOW – I don't really know what else to say. This is the Best Check Cashing System I have ever seen. I am a full time check cashing operator, and this check cashing software blows me away. I wanted to thank you for all your hard work. Your experience in the industry really shows and I think you thought of every feature and then some. But thank Best $100 bucks I have ever spent in my entire life! WOW- AMAZING!"
– FASTCash, Utah
QuickCheck check cashing software paid for itself within the first month by catching fraud and counterfeit checks!

Stewart Pharmacy , Tennessee
The system is very good at stopping fraud. I have seen decreases in fraud and increase in profits. Overall it is an extraordinary account verification service.!

Stop N Shop, Florida
With QuickCheck secure check cashing I never have to worry about my data being copied or stolen.

BP Foodmart, Georgia
QuickCheck anti-money laundering software is the best system to stop fraud checks. Even the auditors that came to audit my store loved it. They said they have never seen anything this comprehensive.

Supermarket , Tennessee
QuickCheck is far better than my previous check cashing system and has made my check cashing business a lot easier to run.

Speedy Stop, Florida
Join The 5,000+ Satisfied QuickCheck Users!