Check cashing service that brings customers back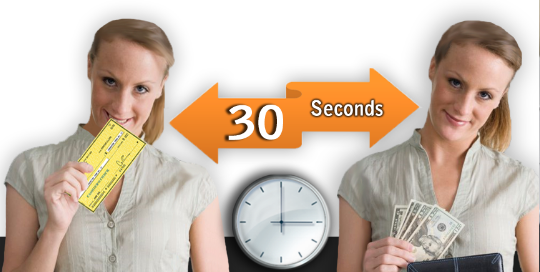 Cash repeat checks in 30 seconds or less
Repeat customers = profitable customers. To keep them coming back, you have to have consistency, speedy service. QuickCheck check cashing lets you:
Cash repeat checks in 30 seconds or less
Automatically perform fraud detection tests
Get alerts for unusual check patterns
Do not annoy customers by asking for fingerprints/IDs
Why treat your repeat, trusted customers like criminals by requiring fingerprints each time they cash a check? In QuickCheck, repeat customers do not have to give fingerprints or IDs. This makes the check cashing process quicker for the customer and easier for your employees to service.
Get timely, insightful alerts
QuickCheck check cashing service alerts you if there is anything negative information about the customer, company or the check. You can:
Get alert when customer/company has bad check history
Get alert when check is significantly larger than normal
Get notified if customer has recently cashed a check